Confidence While Communicating 2020-2021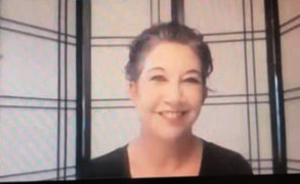 This was a first for HAIP as well as IAIP . . . a virtual CWC Speak-Off competition.  HAIP / IAIP would not let a world pandemic stop one of the most important classes and events to occur this term.  Both the CWC class and the Speak-Off competition were held virtually.  HAIP members Rachel Dowell, Jodi Keliinoi, and Martha Norbriga accepted the challenge of taking the virtual CWC course taught by Chenise Blalock with assistance from Mark Coberly.
On November 12, 2020 HAIP held their first virtual CWC competition with Rachel Dowell and Jodi Keliinoi competing.  Both contestants did an amazing job and as there can only be one winner, Jodi took the prize and went on to represent HAIP at the Region VII Conference.
On March 13, 2021 Jodi Keliinoi participated in the Region VII CWC virtual Speak-Off competition and delivered an excellent 3-minute prepared speech and a 1-minute impromptu speech.  We are proud to announce that Jodi won that competition and will be representing Region VII at the International Convention held in Orlando, FL.
03/13/2021