HAIP for the Holidays 2020: Community Service Project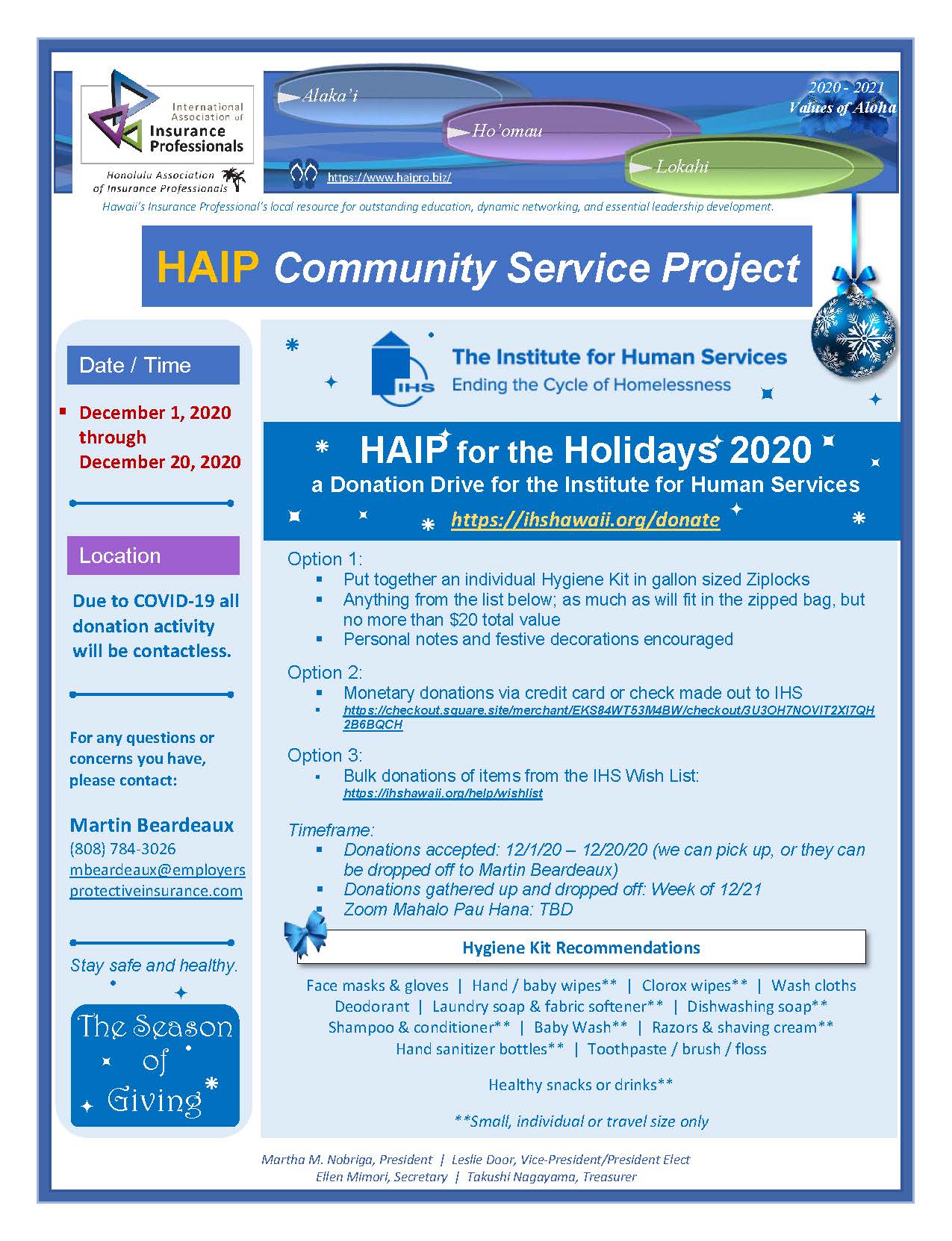 The holiday season is among us!  2020 has been tough for many people and though it continues to be challenging, the holiday season of giving in our community continues to thrive!
HAIP's community service project – HAIP for the Holidays 2020! We are having a donation drive for the Institute for Human Services from December 1st through December 20th. 
3 Options to Donate:
#l.  Individual hygiene kit in gallon sized Ziploc bags valued at no more than $20.00.  We encourage personal notes and festive decorations! List of hygiene items include:
Face masks and gloves
Hand / baby wipes**
Clorox Wipes**
Wash cloths
Deodorant
Landry soap & fabric softener
Dishwashing soap**
Shampoo & conditioner**
Baby wash**
Razors & shaving cream**
Hand sanitizer bottles**
Toothpaste / brush / floss
Healthy snacks or drinks**
**Small, individual or travel size only
#2.  Monetary donations via credit card OR check made payable to:  IHS.  Note:  Credit Card payment are subject to include fees/taxes paid by the credit card individual.
       https://checkout.square.site/merchant/EKS84WT53M4BW/checkout/3U3OH7NOVIT...
#3.  Bulk donations from the IHS wishlist: https://ihshawaii.org/help/wishlist
Members and Corporate Partners of HAIP,  we are excited to set forth a member 'challenge'.  We are encouraging each member/corporate partner to be creative and donate ONE individual hygiene kit. We have 63 members as of November 24, 2020.  We have a new member who joined HAIP last week.  She will be introduced at the December 10th virtual luncheon.  
Your donations - pickup/drop off is from December 1st to December 20th.  Please reachout to Martin Beardeaux of Employers Protective Insurance at (808) 784-3026 or mbeardeaux@employersprotectiveinsurance.com to arrange for pickup/drop-off.
HAIP will be dropping off donations the week of December 21st to IHS.  We'll celebrate the gift of giving at the Zoom Mahalo Pauhana.
On behalf of HAIP, we thank you for supporting our awesome community!
12/01/2020