In Memoriam of our Beloved HAIP Members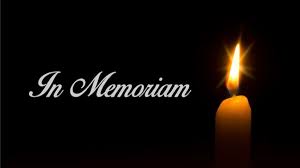 Jennifer Day:
Jennifer was a dual IAIP member of both the San Francisco and Honolulu Insurance Professional Associations.  She was employed by Imperial Premium Finance (IPFS) and handled business for agencies in California and Hawaii.  For 27 years Jennifer was the face of IPFS throughout the Islands sharing her knowledge and expertise of premium financing, but also providing continuing education classes to our licensed professionals.  She made many close friends in the islands due to her wonderful personality and great customer service.
Jennifer was a single mother to two daughters, Amy and Ally, and had one  granddaughter, Kendall.  She was an excellent seamstress and loved making crafts of all types.  She retired in 2013 and was given a wonderful retirement party at the Oahu Country Club by IPFS, which was attended by hundreds of people in the insurance industry who came to wish her well.
Jennifer made her final visit to Hawaii in December of 2018 and brought her two daughters and her granddaughter to enjoy the islands that she knew so well.  We will miss Jennifer, but we are grateful for having her in our lives and we will cherish our memories of that beautiful British lady.
Patricia "Pattie" Hirata:
Pattie left us all to soon on October 11, 2019.  Pattie Hirata was a Past President of Honolulu Association of Insurance Women (HAIW) during the 1992 - 1993 term.  She was employed with Matsukawa Insurance for 27 years as their Office Manager / Personal Lines - Commercial Lines Account Manager. She retired on July 31, 2012.
Pattie enjoyed her retired life and did much traveling to Japan, going on river cruises, and visiting her favorite place - Las Vegas. She was considered our expert on what to do and where to go in Japan.
She was married to Ronald Hirata and has two daughters, Tricia and Jennifer and 3 grandchildren. She also treasured her little dog - Chibi. She was a great wife and mother always putting her family first.
Pattie was a very caring, considerate and fun person. She was also a wonderful friend to us and will truly be missed.
Alett Keahi:
Alett was a Past President of HAIP. She was originally from Honolulu; however, she was brought up in San Francisco by her grandmother.  She lived on the mainland for over 25 years.  Alett returned to Honolulu as a  care giver for her birth mother.  She worked at Marsh/Seabury & Smith as an Account Representative who handled Attorneys' Professional Liability Insurance. Her enthusiasm and positive attitude to 'new learns' transitioned to her involvement with HAIP. 
She became President of HAIP and built new relationships.
Upon the passing of her birth mother, Alett decided to re-route and return to the mainland with her 2 children.  In 2015, Alett joined  the 'Flying With Angels'.  She is truly missed and will forever be in our hearts!  A Hui Hou – Malama Pono!
Martha Loezius:
Martha worked at HIB as the Residual Market Manager. She left there and worked at Griffing, Swan and Lai. While there she was also elected as President of Honolulu Association of Insurance Women (HAIW). She traveled a lot with her husband Hal and retired in Florida. They both loved motorcycles and would ride on the weekends with friends.
Ann Stephen:
Ann started her insurance career at First Insurance as an agent.  After First Insurance closed its marketing division, she became an account executive at Bank of Hawaii Insurance.  After they closed, she joined Pyramid Insurance as an Account Executive/Account Manger where she was responsible for assisting their top agents with their Personal Lines book of business.  Ann had been employed with Pyramid for over 14 years
Ann she was actively involved in HAIP and Pyramid Insurance designated her as their Pyramid representative.  She also passed on the activities of HAIP such as educational classes, etc. to their staff and agents.   Ann was always pleasant and helpful and always smiling. Not only was she like a mother figure to many, but she was also very active in the insurance industry. A well dedicated member for insurance organizations such as HAIP and UAH. Ann will be deeply missed and will always be remembered.